Why You Should Consider Ordering Rice Bowls For Your Event
December 9, 2022 / Stamford's Admin
When it comes to hosting events, every host desires nothing less than outstanding success! Ideally, you would like to see your guests well-entertained with their appetites completely satisfied. 
With the variety of food catering options like bento boxes and mini party sets, you will definitely be spoilt for choice. But how does one make the right decision catering to individuals' dietary preferences? 

For a wholesome meal that will satiate your appetite, rice bowls would be the best option. Not convinced? Here are 4 reasons you should consider ordering rice bowls for your event:
1. Popular with the masses
Rice bowls are most appealing for their simplicity and versatility. The use of various ingredients from different food groups accentuates a palette of flavours, creating a delicious meal. No wonder it has been a hot favourite!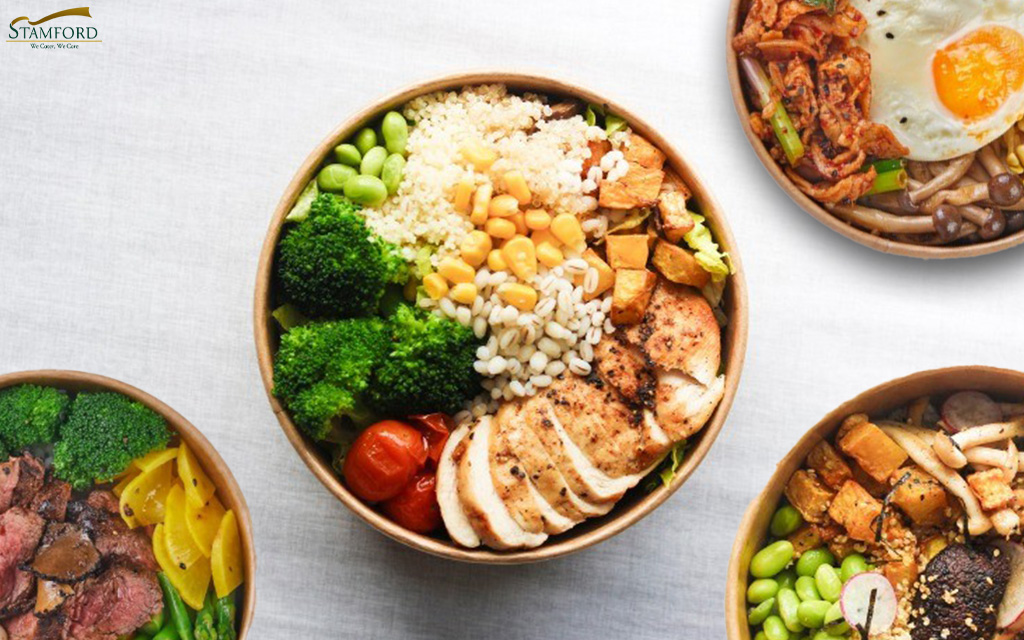 2. Wide variety of options available 
Variety is the spice of life and perhaps the best part of our rice bowls lies in the myriad of choices offered. We provide 12 different meal options that cater to vegans and vegetarians as well. Additionally, as Singapore boasts a multicultural and multiracial landscape, halal food should not be overlooked. This is where our halal bento catering comes in handy, providing appetising meals for our Muslim friends.
Served with the choice of premium Japanese rice or brown rice, here is a glimpse of what you can expect from our rice bowls:
– For meat lovers, our Wagyu beef Bowl is sure to blow you away! Dig into tender chunks of Wagyu beef, paired together with sous vide egg, garlic crumbles, and caramelised onions drizzled with dashi soy sauce. This hearty bowl brings a nice balance of texture with juicy meaty flavours.
– For vegetarians, our Miso Mushroom Bowl is just for you! Prepare for a burst of flavours from miso mushrooms, roasted pumpkin, red pickles, crispy quinoa, baby red radish and edamame. Topping it off with condiments and miso sauce, you will surely be in for a treat!
– For vegans: Our Tofu Garden Poke Bowl is a perfect choice! Packed with multigrain (in place of rice) and marinated tofu, this healthy poke bowl has tons of greens like poached broccoli, and toasted asparagus finished off with a vegan sweet soy sauce. 
3. Well-balanced meal with portions of greens and proteins 
Every rice bowl consists of the following components: Gains, proteins, vegetables and choice of sauce. At Stamford Catering, we ensure our hearty rice bowls have a perfect balance of each component to nourish our bodies with healthy ingredients.
4. Minimising cross-sharing and food wastage
Food wastage tends to be a common occurrence when it comes to catering for events in Singapore. After all, having more than enough food is always preferred over unsatisfied guests. Nonetheless, food wastage incurs unnecessary costs and event planners are seeking means to reduce such wastage. Now with our rice bowls, this will no longer be a cause for concern!
Since our rice bowls are individually packed for one serving, rest assured that your guests will be satisfied. All you have to do is find out the exact number of attendees for your event. Moreover, our individual packaging reduces the risk of cross-contamination from communal serving.
Hosting your own event will never be easy, from planning and coordinating to ensuring your guests are pleased. When it comes to catering your food, our rice bowls are definitely a great option for you! With a hearty serving of delicious and nutritious ingredients, your guests will leave with their tummies feeling satisfied.
At Stamford Catering, we take pride in being one of the leading halal-certified catering services in Singapore. We offer a wide array of menu options for you to choose from, ideal for parties of any size. Learn more about our menu and party sets today!