Debunking 4 Common Misconceptions About Event Catering
December 9, 2022 / Stamford's Admin
There are many considerations to make when planning a big event. From curating your guestlist to venue locations, the process can be hectic and tedious. Amidst the preparation and decision-making, catering food services should not be overlooked as they can leave a long-lasting impression on your guests.
With the many myths and misconceptions surrounding food catering, some may have become sceptical in using such services. As such, this article will debunk these misconceptions and shed light on the truth, helping you make more informed decisions.
Myth #1: Restaurants that offer catering services and event caterers serve the same purpose
While both of these catering services are similar in terms of menu, the process from preparing to delivering the food differs. 
For restaurants that cater, you may be required to pick up the orders and serve guests on your own while finding solutions to keep the food warm. On the other hand, event caterers will prepare the food and transport it directly to the event venue. They also include servers to serve the food and clean up once the event has ended. In addition, they provide fancy flatware, plates and napkins to complement the meals provided. 
Do note that restaurant menus may be limited, which may not appeal to the majority while catering menus tend to have a wider spread of food options, serving big groups of guests quickly and efficiently. 
Myth #2: It is easy to find and book event caterers on a last-minute basis
Just like how event venues require booking in advance, event caterers are no exception. Booking beforehand will allow event caterers to make any special preparations, catering to your guests' dietary needs. When it comes to the festive seasons including Christmas, booking slots fill up quickly, hence, early booking is key.
The caterer you opt for can make all the difference in determining the success of your event. A reliable caterer will not only keep your guests' tummies satisfied, but offer greater peace of mind as well in knowing that the catering process is well-taken care of. This frees up more time, enabling you to focus on other aspects of event planning. 
Thus, it is crucial to give yourself ample time to choose the right caterer for the job and make haste in booking them once you have finalised your event details.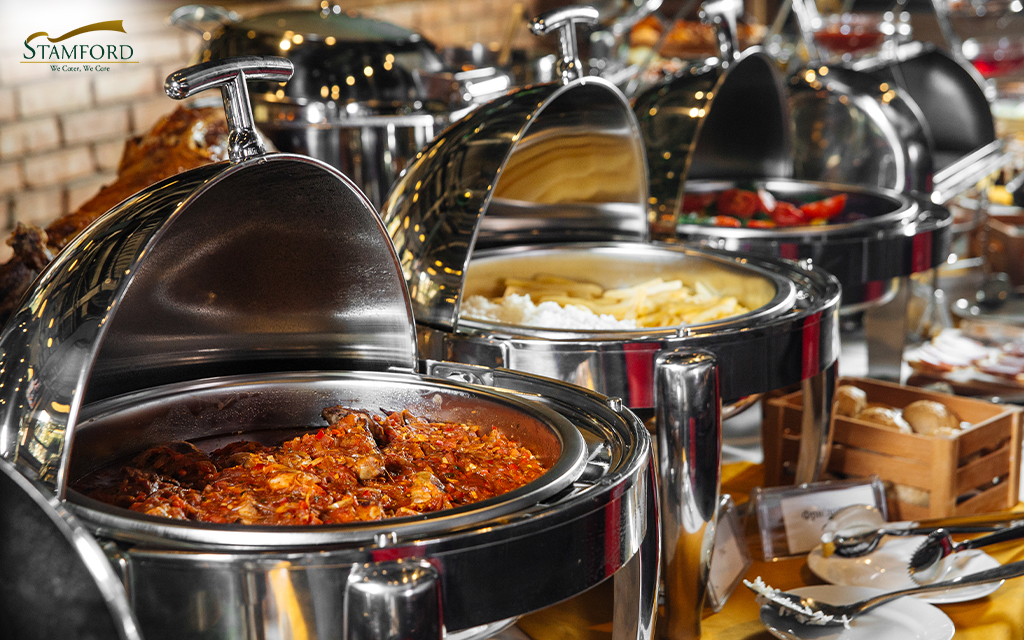 Myth #3: Food catering services tend to result in insufficient food for guests 
While event catering services do offer buffet spread, it does not necessarily mean there is not enough to go around for your guests. In fact, professional caterers will always check the number of pax you are serving and recommend the most suitable menu accordingly. This way, you never need to worry about food running out during an event.
Alternatively, for nutritious hearty meals that will satiate your guests' appetite, you can order our bento box sets that consist of well-balanced portions of greens and proteins that are individually packed for one serving. 
Myth #4: Food caterers always use frozen and packaged food. 
This is where performing proper research to engage a quality food caterer is key. A good food caterer understands the importance of fresh ingredients and how they bring out authentic flavours and tastes of the dishes. 
At Stamford Catering, rest assured that we deliver nothing less than top-quality food that is halal-certified and ISO 22000-certified to ensure the strictest quality check and hygiene standards.
Organising for big events can be stressful at times but with proper planning, successful and memorable outcomes are made possible. We hope this article equips you with the knowledge and benefits of booking event catering services in Singapore. 
Stamford Catering takes pride in being one of the leading halal-certified catering services in Singapore. We offer a wide array of menu options for you to choose from, ideal for parties of any size. Learn more about our menu and party sets today!