Baby's Full Month Celebration: How To Plan The Party Like A Pro
August 8, 2023 / Stamford's Admin

Congratulations! Oh, how time flies; your baby is now a month old, and it is time to celebrate your bundle of joy's full-month party. In Asian culture, this celebration is a cherished tradition that marks a baby's one-month milestone. Planning this special event requires attention to detail, creativity, and a touch of finesse. So to help you get started, let us dive into the essential steps to ensure this party is a resounding success.
Learn More: How To Create A Memorable Menu For Your Next Party
Step 1: Decide on a time and date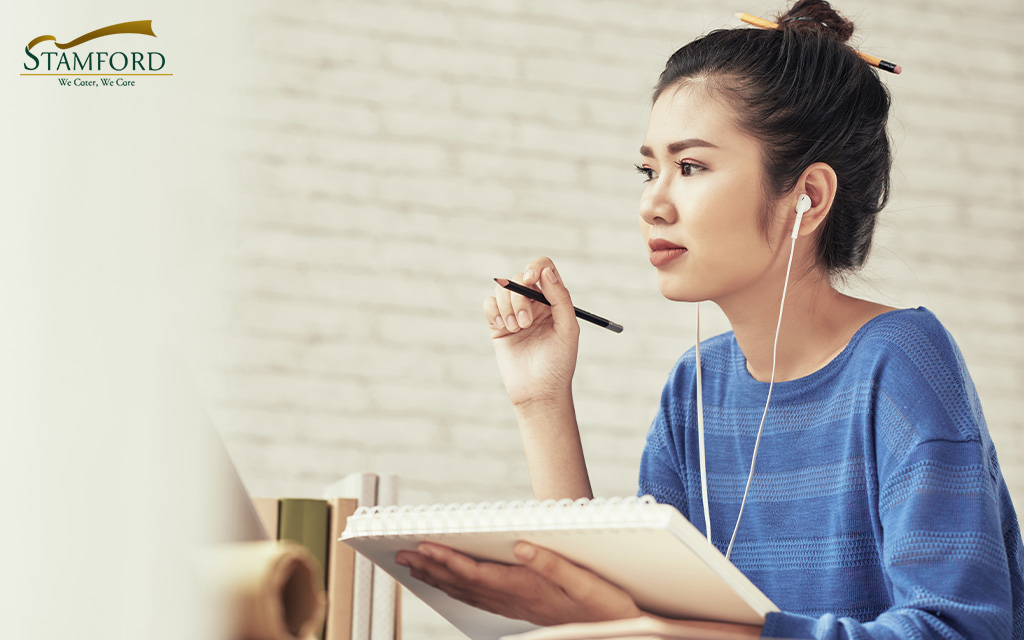 The baby's full-month celebration is traditionally held on or around their one-month birthday. However, you can choose a date that works best for your family. Just ensure the date is before or on the actual day, as Asian families generally do not believe in celebrating after the date has passed. 
Consider the availability of your close family and friends you want to invite. We recommend picking a weekend since they are usually more convenient for guests, as they have fewer commitments. Once you have pinned down a date, update your guests so they can block their calendars too.
Step 2: Decide on the guest list
Crafting your guest list is a pivotal step that can set the tone for the event! So take the time to plan well. While it can be tempting to invite everyone to bask in the celebration, it is best to keep the guest list intimate, focusing on close friends and family. Doing so helps to foster a warm and relaxed atmosphere where you can truly cherish the company of your loved ones. Besides, the larger the scale, the more complex the thing becomes. So keep it simple; you will be thankful for this decision.
Step 3: Search for an accessible venue and plan your budget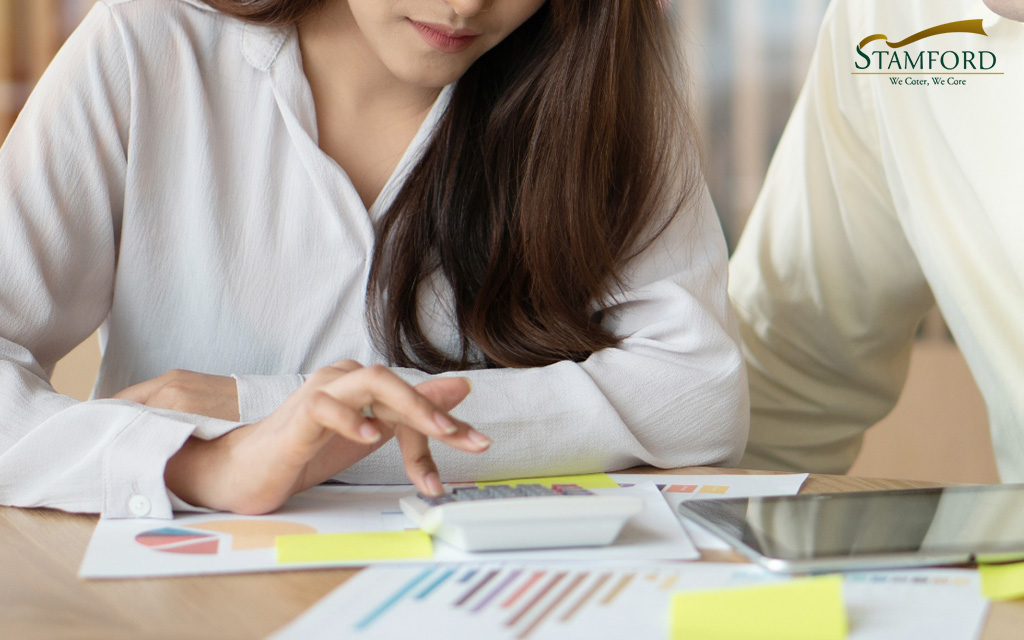 The venue sets the stage for the celebration, so choose wisely. Most families in Singapore opt to host the party at home, as it offers a personal touch and saves on venue costs. That is an excellent idea, but it may limit the number of guests you can invite. If you have a bigger guest list, you may want to reconsider your venue options. Shortlist several locations so that you have a backup plan if your top choice is unavailable.
Once you have a venue in mind, call to enquire about the price and whether the place is available on your preferred date. While we understand wanting to pull out all the stops, it is best to be prudent and plan your budget accordingly. Remember, you still have decorations, catering, and other party essentials to consider. Staying within your budget will help you enjoy the event without unnecessary stress.
Step 4: Send out the invites
Invitations are more than just a formality; they can help build excitement among your guests, so ensure your invitations reflect the theme or colour scheme of the party. Be sure to include the date, time, venue address, RSVP details, and any special requests, such as dietary preferences (for catering purposes), in the invites. We recommend sending them out early, preferably a few weeks in advance, to give your guests ample time to respond and arrange to attend the event.
Step 5: Plan the catering menu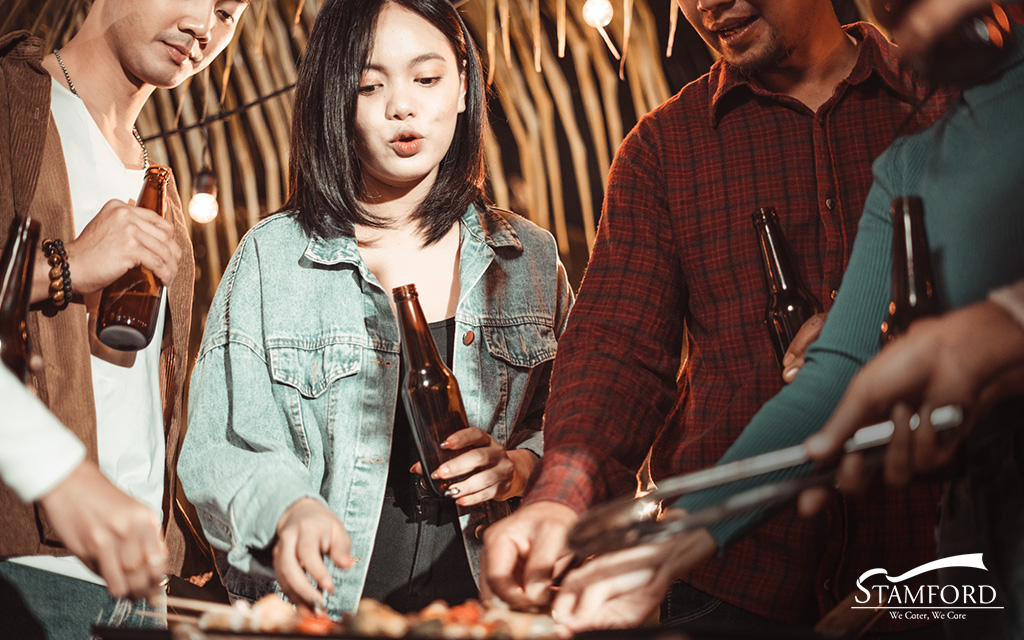 What is a party without food? As the heart of any celebration, your catering menu requires careful consideration. Consider a diverse menu to cater to different tastes and dietary requirements. A popular catering option for a baby's full-month celebration is an array of finger food and appetisers to match the more relaxed and social atmosphere. 
Alternatively, you can consider mini-buffet catering to enjoy a broader array of dishes while avoiding food wastage for a more intimate gathering with fewer guests. Regardless of your decision, we recommend working with a professional caterer who can help you create a memorable culinary experience for your guests.
Step 6: Plan out the party agenda
Now, the fun is getting started! Plan a loose party agenda that outlines the vital moments of the celebration to keep the party flowing and the guests engaged. Remember to keep things flexible. This way, you have leeway to adapt to the needs of the baby and the guests.
For parents looking to keep things toned down, you can prepare simple activity booklets to keep kids entertained while the adults mingle and fawn over the star of the party. Conversely, those planning to go all out can consider engaging an external vendor, such as hiring a clown, magician, or a bouncy castle for their kiddie guests. Just remember to book them a few weeks prior to ensure availability.
Step 7: Enjoy your baby's special day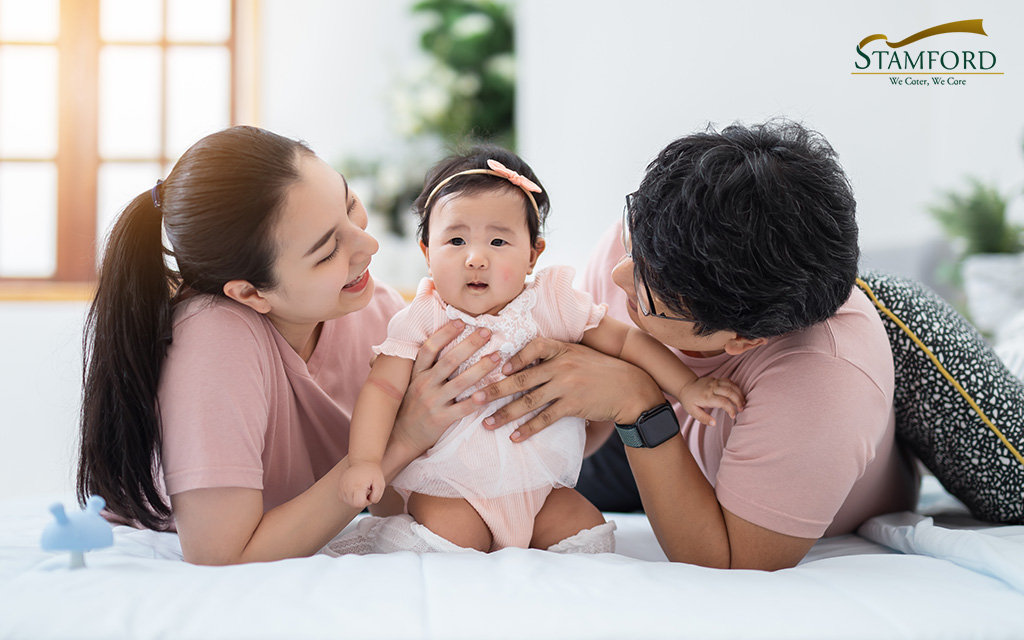 Finally, as the big day unfolds, remember that this celebration is not just about your baby. It is also a chance to celebrate your journey as parents. So savour each moment and enjoy your baby's special day. Take pictures, create lasting memories, enjoy the catering and entertainment, and most importantly, let the warmth of the celebration surround you and your little one.
So there you have it! A step-by-step guide to celebrating the newest addition to your family. Remember, what we shared is just a general outline. So feel free to infuse your unique personal touch to create a memorable and heartwarming event that will be cherished for years to come.
Are you ready to seize the moment and plan your baby's full-month celebration like a seasoned pro? In that case, you may want to seek help from a professional, especially in the food department, to ensure your party is successful! At Stamford Catering, we have experience catering for various events, including a baby's full-month and 100 days celebration. Do not hesitate to contact us today to enquire about our catering menus.