How To Create A Memorable Menu For Your Next Party
June 14, 2023 / Stamford's Admin



We have to be honest; hosting a party can be overwhelming. There are various elements involved with planning a memorable party, and one of the vital factors that can make or break the event is the food you serve. It helps set the tone for the party and leaves a lasting impression on your guests.
Fortunately, with various caterers available in Singapore, serving pipping hot delicious food to your guests can be a hassle-free experience. Instead, the challenge lies in choosing the right catering menu. Thankfully, this task is easier than you think. To ensure a culinary experience that will leave your guests floored, let us explore how you can create the perfect catering menu for your upcoming party.
1. Consider the 3 Ts (Time, Theme, and Temperature)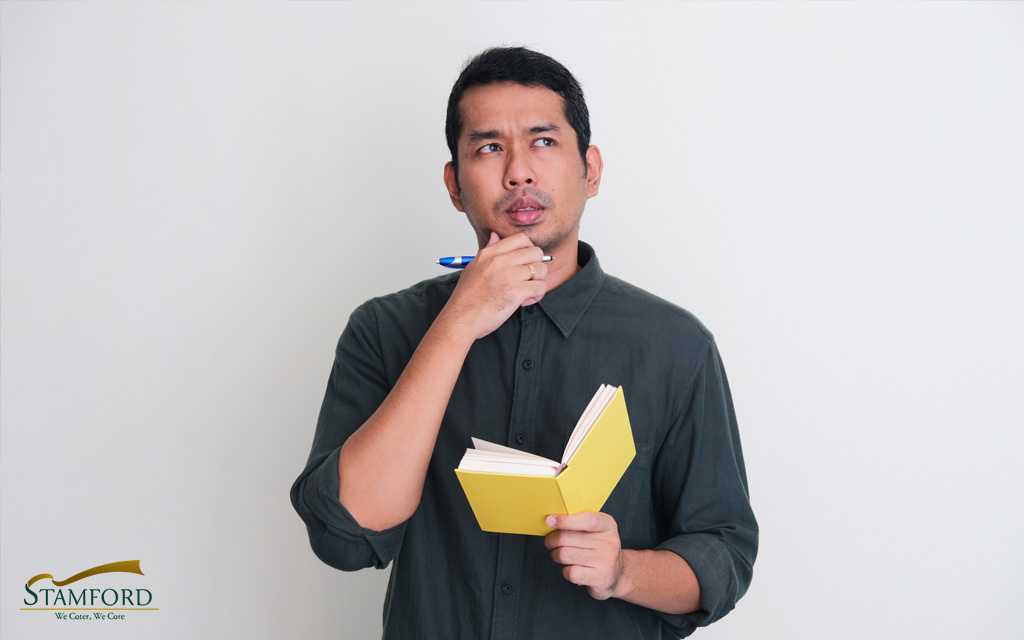 If you fail to plan, you plan to fail. That is probably something you want to avoid as the host, right? So to get the ball rolling, it is essential to settle on the time and theme of your party, as they can play a significant role in determining the type of menu you should choose.
For example, if you plan to arrange a brunch or a picnic, it makes sense to host the party during the day. As for the catering menu, lighter and more refreshing finger food will be more suitable. Think fresh fruit tartlets, delicate pastries, and refreshing tropical punch.
Conversely, for an evening affair or a cocktail party, you can opt for a more indulgent and savoury menu featuring a selection of appetisers, gourmet finger food, and filling mains. A buffet spread may be ideal, as it provides your guests with a wide variety of food while allowing them to decide on the appropriate serving they require.
Another factor to consider is the temperature of your event venue. Is it indoor or outdoor? If it is the latter, you should avoid desserts like ice cream or food with frosting, as they will melt off in the heat. With that said, you will want to serve a cold beverage or two to cool guests down, like winter melon tea. If it is the former, with a climate you can control, you can have more flexibility with the catering menu.
2. Consider the number of guests and their dietary restrictions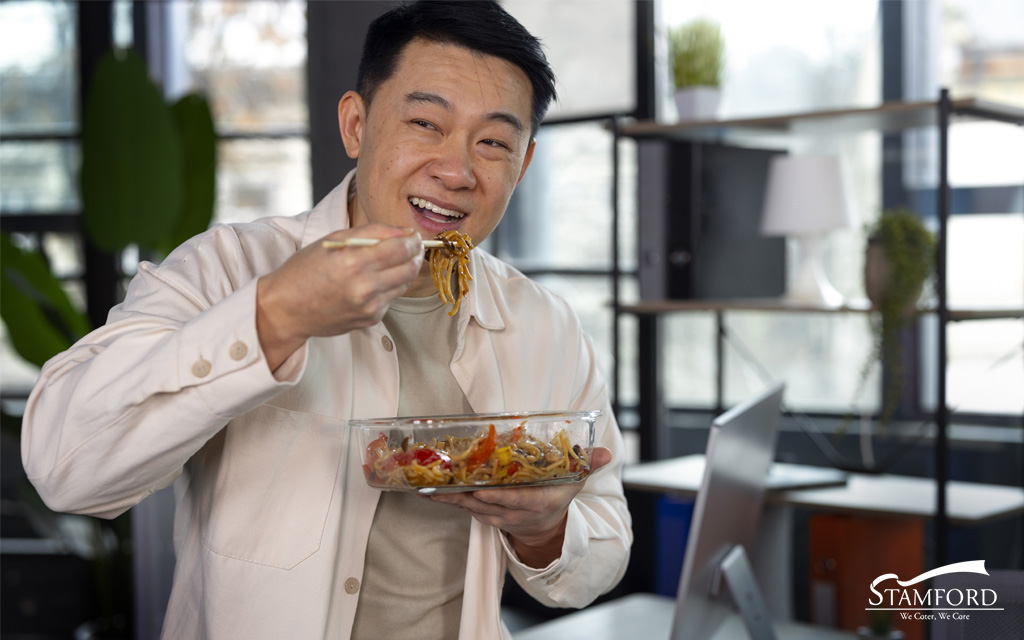 Many hosts request their guests to submit an RSVP to their party, and for good reasons. It is essential to consider the number of guests attending to ensure sufficient food portions. After all, the last thing you want is to leave your guests feeling unsatisfied. Trust us; it is not a good look for you as the organiser.
Do not forget to ask if any of your guests have dietary restrictions too. For example, if you have Muslim guests attending your party, you should consider Halal catering. Offering a diverse range of dishes catering to different dietary needs ensures that everyone feels included and can enjoy the party without worries.
3. Ensure there is variety for your guests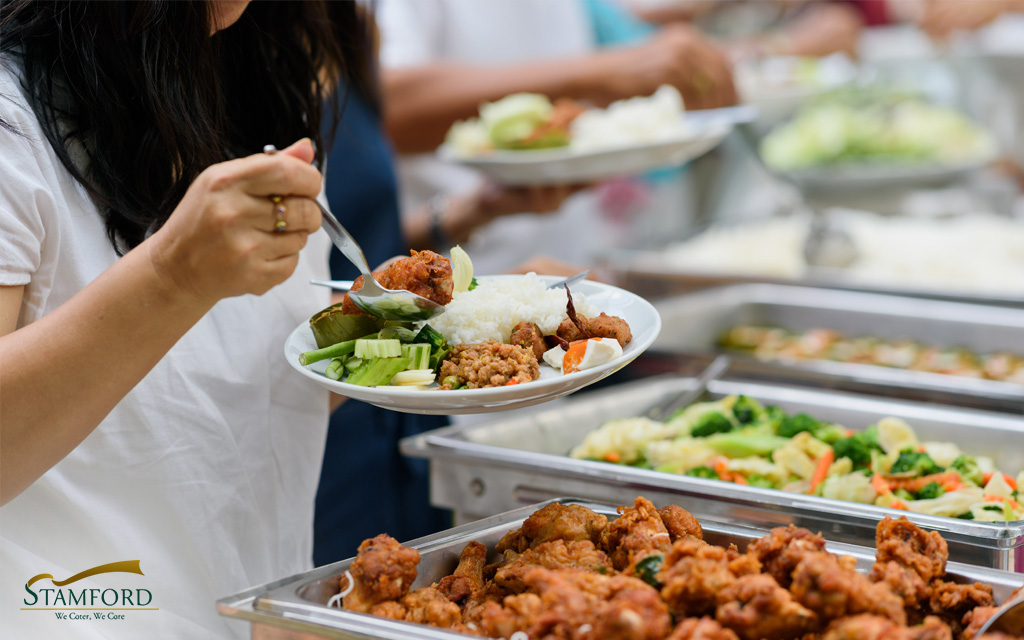 To create a memorable catering menu, it is essential to consider the sensory experience of the food. Remember, impressing your guests has as much to do with the presentation as the taste. So incorporate various textures, flavours, and colours to tantalise their taste buds and create a visually appealing spread.
Feel free to experiment with different flavour profiles, such as sweet, savoury, spicy, and tangy, to add excitement to the palate. A diverse and well-balanced selection of textures, flavours, and colours ensures that each bite is a delightful journey for your guests.
If you have a smaller party group, you can consider mini-buffets. They contain smaller portions, allowing guests to sample a broader selection of dishes while minimising food wastage.
Learn More: Why You Should Consider Mini-Buffet Catering Services
4. Keep things simple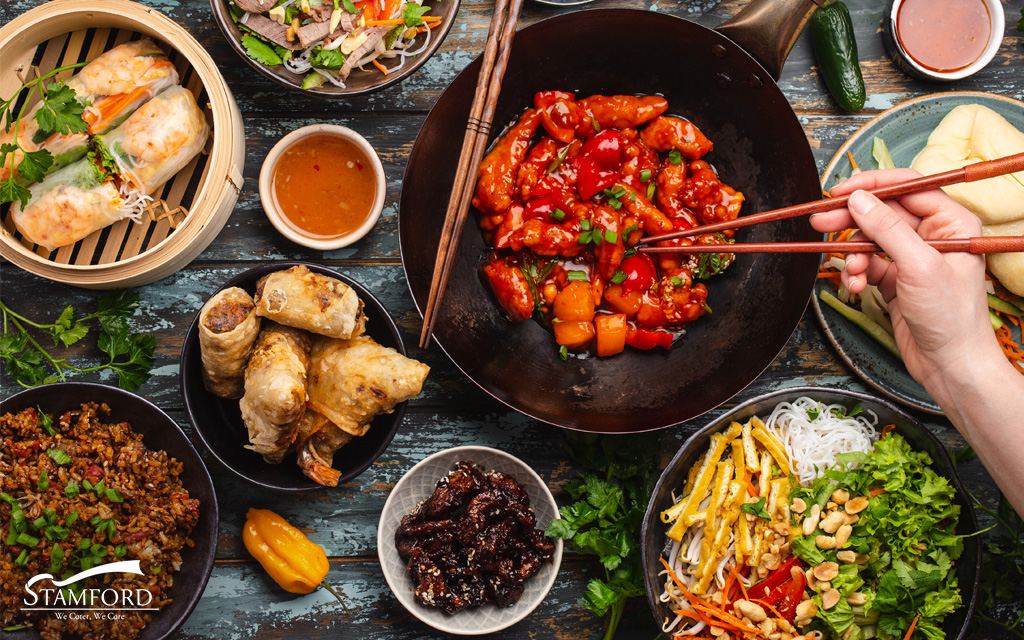 It can be tempting to go all out with an extravagant menu when you are in doubt. We understand; you want to leave a positive impression. However, keeping things simple can often lead to a more memorable dining experience. Focus on quality rather than quantity, choosing a few standout dishes that are expertly prepared and presented.
By limiting the number of dishes on offer, you can avoid food wastage and spend more time with your guests, enjoying their company and the party atmosphere rather than being overwhelmed by an overly complex menu. Remember, simplicity can be elegant and memorable too!
Creating the perfect catering menu for your next party need not be a stressful affair. With these tips in mind, collaborate closely with your caterer, share your vision, and let their expertise guide you in selecting dishes that will delight your guests' senses. A well-thought-out catering menu sets the stage for an unforgettable party, making it an event that will be cherished and remembered by all your guests.
Fortunately, you do not have to search far for your ideal caterer. As one of the top Halal catering services in Singapore, with over 20 years of experience in the industry, our team has provided exemplary catering services for numerous parties and events. You can rest easy knowing you will receive top-quality food and experience when you employ our services. Do not hesitate to contact us today to enquire about our prices and menus.