Top 4 Wedding Catering Trends For 2023
May 16, 2023 / Stamford's Admin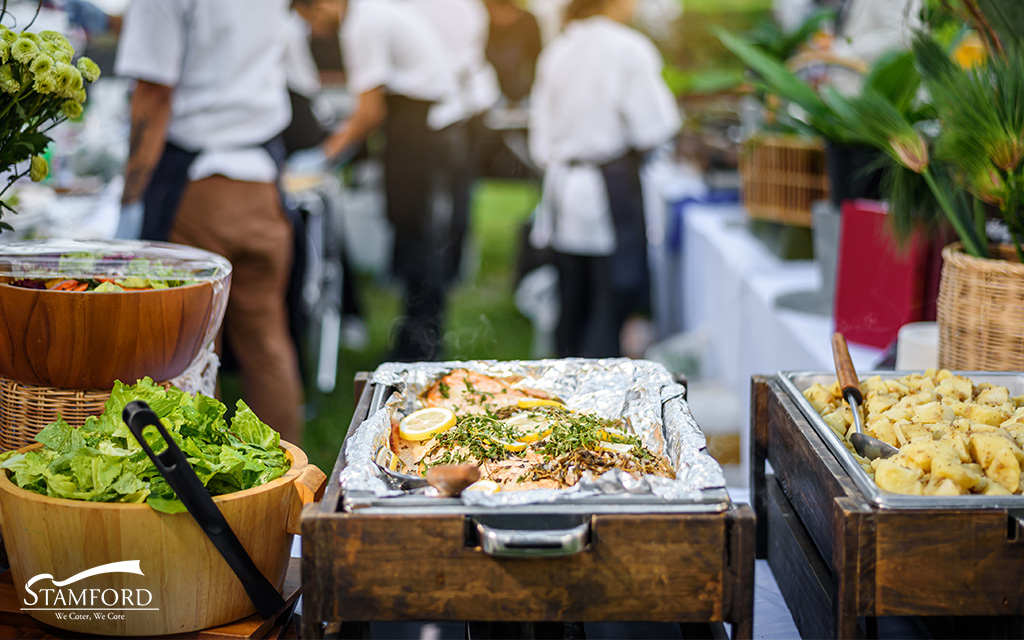 Weddings are a special day for couples to celebrate their love and commitment with family and friends. When it comes to the planning aspect of a wedding, choosing the right food is one of the most important decisions a couple can make, as it sets the tone for the reception. Gone are the days when weddings were limited to traditional catering options for their big day. With the rise of social media and the internet, couples can now explore inspiration from all over the world and incorporate their own unique style into their reception menu.
Learn More – 5 Questions To Ask Your Wedding Caterer Before Booking Them
Whether you're planning a small intimate wedding or a large, extravagant affair, here are some Halal wedding catering trends of 2023 that will make your big day a celebration to remember.
1. Live Food Stations
Who says wedding receptions have to be stuffy and formal? Live food stations are taking the wedding catering world by storm, bringing a fun and interactive element to your exclusive day. Forget the traditional sit-down dinners and embrace the excitement of watching your food being prepared and cooked right before your eyes.
From sushi bars to carving booths with juicy cuts of meats and oyster-shucking corners, live food stations offer a variety of options to tantalise your taste buds. Not to mention, you also get the opportunity to customise your meal and make it uniquely yours. Dessert stations are also making their way into wedding catering trends to satisfy your sweet tooth and add a touch of whimsy to your reception. Indulge in make-your-own ice cream sundae bars or customise your own crepe flavours at the crepe stations to create a sweet treat that's perfectly suited to your tastes.
2. Fusion/International Cuisines
Weddings are a celebration of love and joy and your menu should reflect just that. Couples today are embracing the world of international cuisine and adding a fun and exotic twist to their wedding day. Be it Italian, Indian, or Mexican food, the possibilities are endless when it comes to adding a touch of cultural flair to your wedding menu.
Fusion delicacy is another trend that's making headlines in the Halal wedding catering scene. This trend combines elements from different culinary traditions, resulting in distinctive and delicious dishes. Imagine serving up Korean-inspired tacos or Indian-inspired curries at your wedding – not only will they be a hit with your guests, but they'll also showcase your personality and interests as a couple.
3. Dessert Table
Desserts are the best part of any meal, and your wedding day should not be an exception. Why settle for boring wedding cakes when you can delight your guests in the whimsical and delicious world of dessert tables? A dessert table is the best way to introduce your guests to a plethora of mouthwatering treats while bringing some sweetness and happiness to your special day.
With cupcakes, macarons, cookies and cake pops, there is something for everyone! The key to creating a beautiful table is to have a variety of selections in different colours and textures. Do also consider incorporating rustic and modern ideas with wooden crates or vintage trays to add some elegance to the whole look. Your dessert table will surely be the talk of the town for years to come!
4. Signature Mocktails
Let's raise a glass to the latest trend in wedding catering  – signature mocktails. These drinks offer a delicious and refreshing alternative to alcohol and are perfect for guests who prefer not to drink or those who simply want to take a break from the booze. A signature mocktail is a non-alcoholic drink that is custom-made for your wedding. It's a great way to incorporate your wedding theme or colours and add a fun and personalised touch to your menu.
A refreshing lemonade or a fruity punch that matches your wedding decor scheme – now that's a drink worth toasting to. Get creative and let your imagination run wild when it comes to your signature mocktail. Your guests will appreciate the effort you put into making their drinking experience extraordinary and memorable.
Don't be afraid to think outside the box. With a little creativity, research and the help of Stamford Catering, you can design a wedding menu that will be unforgettable. We offer a wide array of menu options for you to choose from, ideal for parties or events of any size. Contact us today to know more!